Student Punt Scheme
We've suspended the punt scheme. Preferenctial concession rates still available to students and CamCard holders for our boat hires.
---
Join the Student Punt Scheme
Our Student Punt Scheme allows Cambridge University College JCRs and MCRs to provide year-round punting opportunities for their students at substantial discounts on our existing concession rates.
Students can claim two discounted self-hire boats per student card, available on a walk up basis. A deposit of a credit or debit card imprint plus a valid College ID card will be taken prior to hire and our usual Terms & Conditions apply. The minimum age for hiring a boat is 16 years old.
Discounted prices for punt scheme members:
Towards Grantchester
Punts and canoes: £19.5 per hour or £78 per day (discounted from £26 per hour and £104 for per day)
Single kayaks: £10 per hour or £40 per day (discounted from £13 per hour and £52 for per day)
Double kayaks: £16 per hour or £64 per day (discounted from £21 per hour and £84 for per day)
The College Backs
Punts: £19.5 per hour (discounted from £26 per hour)
Contact us by email or on 01223 359750 with enquiries.
Student Punt Scheme Members 2020
The student scheme runs each year from April to March. Check if your college is a member this year and then make the most of your discounted boat hire. If your college isn't on the list and you'd like it to be, then you can speak to your JCR or MCR and request that they contact our Bookings Team.
View Members
How to Punt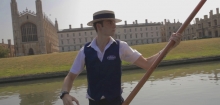 Looking to master the art of punting? This is the guide for you...
Learn here