Cambridge Parking
Driving to Cambridge
Park & Ride Services
Parking in Cambridge can be tricky and we recommend using the city's fantastic Park & Ride services - they're one of the most economical ways to park and enjoy time in the city.
Our map indicates the direction that you will travel into town from once you've parked. Alight once you reach the city centre and make your way to your chosen punting location.
Cambridge Car Parks
As many prefer to drive into town we've prepared a downloadable map to help you choose the best central Cambridge car park for your needs.
Please bear in mind that traffic can be heavy and there are often queues for the most popular car parks. We recommend that you leave plenty of time to complete your journey, especially at weekends or public holidays.
Cambridge Parking Map
Take a look at the Cambridge city car park choices and choose the most suitable location for you!
View Map
Dog Days Out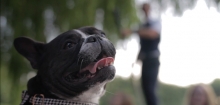 Punting with your dogs - enjoy some free time together on the river!
Read More