Cambridge Birthday Parties
Birthday Party Punting Activities
Cambridge makes a fantastic birthday party location with its traditionally cool riverside culture and abundance of activities, there's something for every taste. It's perfect for those looking for a cultural and relaxed experience and yet is likewise perfect for those looking for an active and fun party.
We have created a range of unique birthday party ideas designed around Cambridge and its number one activity – punting! Whether you're looking for a children's activity, something more cosmopolitan or an adventure, we can help make sure your birthday party is exactly what you want. Call our Bookings Team with your special party requests on 01223 359750.
Celebration Punt Tours
Treat your party guests to a private punting trip through the spectacular College Backs sipping traditional lemonade in a balloon adorned punt.
Read More
Treasure Hunt Punting
Pit your birthday guests against each other in teams on our tricky Cambridge Challenge. There's physical and mental trials with prizes for the winning team!
Read More
Cocktail Punting
Take your guests on an afternoon private punt tour with your own on-board Cocktail Master. Enjoy your refreshing drinks as you glide along the Backs.
Read More
Tour and Lesson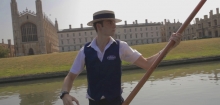 Combine your punt tour with a punting lesson for some adventure and enjoy mastering a new skill!
Read more