Romantic and Wedding Tours
Cambridge Romantic Punts
Our award-winning punting tour is an iconic Cambridge experience and the perfect way to enjoy some traditional romance. Relax and enjoy the romantic setting with your partner as your expert chauffeur punts you along the College Backs.
Cambridge Wedding Punts
We believe that the location of your wedding will have an influence on your theme and style as well as on your chosen pre and post wedding fun. For Cambridge wedding planners this can mean some very exciting options such as bespoke wedding punting, visits to the College Backs and their pristine lawns or even a trip to the idyllic Grantchester Meadows.
Looking towards traditional and more unique Cambridge activities will ensure that your wedding stands out in your guests' memories as much as it does in your own. An hour of punting through the stunning College Backs can add a sense of wonder to those all-important photographs whilst providing a sense of relaxation and an escape from the mayhem of the day.
With this in mind, we will work to make your wedding day perfect for both you and, if you choose, every one of your guests. Please contact our Bookings Team on 01223 359750 to arrange the perfect punting experience for your guests.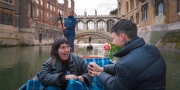 Proposal Punt Tour
Surprise your loved one with a unique punting proposal in spectacular surroundings. Celebratory Champagne and flowers are included.
Book here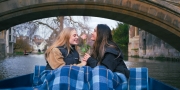 Valentine's Punt Tour
Celebrate St Valentine's Day on a romantic punt tour of the College Backs with your lucky Valentine. Punt tours include a long-stemmed red rose.
Book here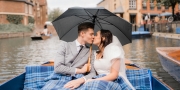 Romantic Wedding Punt
A romantic punting experience for the wedded couple on a silk flower adorned punt with chilled champagne. Glide to your happily ever after!
Book here