School Punting
Punting Activities for School Groups
See first hand how the experience of punting engages and inspires children with our fantastic school group punting activities. We provide an array of trusted Cambridge activities that are suitable for all school groups.
We offer chauffeured punt tours which bring Cambridge's rich history to life against the unique backdrop of the College Backs. In comparison, our self-hire punting gives pupils the chance to learn new skills in an exciting and novel environment. Our school group punting activities come with excellent discounts when pre-booked.
We understand the time, commitment and effort required to arrange memorable school outings for pupils. For this reason, our Bookings Team is happy to assist teachers in any way we can to help plan a successful day in Cambridge.
Please call us on 01223 359750 to discuss your requirements.
School Punting Prices
We offer special generously discounted School Activity punting rates. Please contact us via email enquiries@scudamores.com or over the phone 01223 359 750.
School Visit Guide
Plan your trip with the assistance of our downloadable guide.
View Guide
Tour and Lesson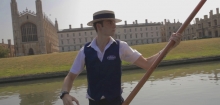 Combine your punt tour with a punting lesson for some adventure and enjoy mastering a new skill!
Read more