Chauffeured Punt Tours
Choose from our classic punting options below.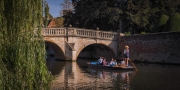 Shared College Backs Punt Tours
Our award-winning punt tour of the College Backs is a great introduction to Cambridge. Plan ahead and save when you buy your ticket online.
Book here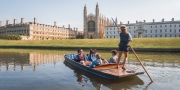 Private College Backs Punt Tours
Our private punting tours let you and your party see the spectacular College Backs in your own exclusive punt, departing at your chosen time.
Book here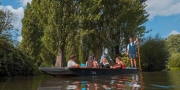 Grantchester Punt Tour
Our Grantchester Punt Tour provides the ultimate rural retreat, taking you out towards the idyllic village and its surrounding meadows.
Book here