Private Cambridge Punt Tours
Private Cambridge Tours
"The time has come," the Walrus said,
To talk of many things:
Of shoes — and ships — and sealing-wax —
Of cabbages — and kings —"
From The Walrus and Carpenter (Lewis Carroll)
Our private College Backs punting tour offers the ideal introduction to Cambridge's long and eventful history. Our river tour guides have a passion for history and a talent for sharing it with our customers — discover how the city has evolved from medieval market town to world-class centre of learning, while enjoying breath-taking views from the river. From the gothic splendour of King's College Chapel to the classical elegance of the Wren Library, your guide will ensure that you don't miss a thing.
A private tour provides a more personalised experience. You will have the exclusivity of your own punt, reserved for your preferred time, and with the punt chauffeur all yours you can decide how much of the commentary you wish to hear, and ask as many questions as you like along the way.
Punting emerged in the nineteenth century, and as punts' flat bases make them generally very stable watercraft, and able to pass through shallow areas of water, they were ideal for transporting cargo along waterways, as well as for eel-fishing, reed-cutting, and fowling. In the mid-nineteenth century, 'pleasure punting' was introduced to the River Thames as a new way for passengers to enjoy the river.
Our company's founder, Maurice 'Jack' Scudamore, opened our Mill Lane boatyard at the beginning of the twentieth century, for the hiring out of motorboats and rowboats. Spotting an opportunity, and having completed a boat-building apprenticeship earlier in his life, he began to build his own punts to add to his collection of watercraft for hire. Following this, enthusiasm for punting on the River Cam grew so rapidly that it became the most popular watercraft activity in Cambridge by the early 1920s.
And here we are, still providing the Cambridge punting experience over one hundred years after Jack's punts first graced the river.

Private tours from £133

Flexible online bookings

Guaranteed entry time
Details:
Private College Backs Punt Tour
45-minute private chauffeured punt tour of Cambridge.

Highlights:

- See the Mathematical Bridge
- Pass by the world famous King's College Chapel
- Admire the Wren Library
- Punt under the Bridge of Sighs
- Go under the "Cam Bridge" at Magdalene College
Know before you buy ▾
Getting here ▾
Private tours can be booked daily from our Mill Lane or Quayside Punting Stations. For any special requests, please call our Bookings Team directly on 01223 359750.
Aim to arrive 15 minutes before your booking reservation to allow time for checking in.
You can easily reschedule your booking up to 1 hour before departure by following the link in your booking confirmation. Changes to guest numbers can be made up to 48 hours in advance by calling our Bookings Team on 01223 359750.
Bookings are valid for the date and time purchased and are not refundable less than 48 hours before departure. Don't worry, you can easily rearrange your trip without paying an exchange fee up to 1 hour before departure by following the link in your confirmation. You'll only pay the difference in ticket price, where applicable.
Paid bookings, cancelled up to 48 hours in advance are eligible for a refund minus an administration fee equal to 30% of the booking's value up to a cap of £50 or a credit note for the full amount of the booking. We are unable to offer refunds less than 48 hours in advance except in cases of dangerous conditions.
Bookings are subject to our Terms & Conditions.
Please call us on 01223 359750 if you have any questions about your purchase.
Before your visit, please check which punting station you are booked from; your confirmation letter will state this.
We have two locations in the city centre which you can book from:
Mill Lane Punting Station
Granta Place
Mill Lane
Cambridge
CB2 1RS
Quayside Punting Station
Magdalene Bridge
Cambridge
CB5 8AB
Parking and Public Transport
More information on Cambridge parking and public transport to our locations can be found
here.
2. Select online pricing:
On weekdays enjoy the river at its quietest. At weekends don't miss your chance to go punting and book yourself a guaranteed entry. On the day kiosk prices vary from pre-booked online prices.
Loading some wonderful products...
Have a question?
How many people can each boat hold?

Our chauffeured tour boats hold up to 12 passengers. Online bookings can be made for 4 boats maximum. If you're looking to book more than 48 people please contact our Bookings Team on 01223 359750 or at enquires@scudamores.com.

Babies and toddlers count towards the total number of passengers.

What is the start and endpoint of the tour?

You can choose between our two departure points when you book: Mill Lane or Quayside. Your tour will finish at the same place you started from.

Can I move or reschedule my booking?

Yes, just follow the link in your email booking confirmation. You can easily rearrange your trip without paying an exchange fee up to 1 hour before departure. You'll only pay the difference in the ticket price, where applicable.

Can I make changes to the number of guests?

You're able to amend guest numbers up to 48 hours in advance. To do so please get in touch with our Bookings Team on 01223 359750 or at enquires@scudamores.com.

What if the weather changes on the day?

All of our tours run as normal unless the river conditions are dangerous and we have to stop operating. As standard, we provide umbrellas and blankets on our boats.

Do you have wheelchair access?

We have wheelchair access to our Mill Lane punt station. Please get in touch by phone or email so we can figure out how best to help you with your accessibility needs.

Are pets allowed?

Yes, we are pet friendly! In our experience, pets love a day out on (and sometimes in) the river every bit as much as their owners.

Any other questions?

If you have any other queries or special requests please do get in touch.
Email: enquiries@scudamores.com
Phone: 01223 359750
College Backs Map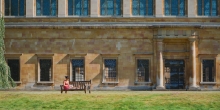 Download our College Backs map before you go.
Read More