History of Punting
History of Punting in Cambridge
The history of punting in Cambridge starts with Maurice "Jack" Scudamore, a Cambridge native who completed his boat building apprenticeship at a Chesterton Boatyard and was involved in the building of the first punt in Cambridge.
Jack went on to serve his country and saw active duty in the South African War with the 3rd Dragoon Guards in Natal and the Cape Colony. On his return to Cambridge in 1903 he founded Scudamore's Boatyard in Mill Lane, where he initially built and hired rowboats and prize-winning motorboats.
At about this time 'pleasure punting' as a trend began to establish itself on the Thames. Punts are square-ended boats with flat bottoms, no keel and are usually propelled with a long pole. They are well-suited to the flat, shallow waters of the Fens around Cambridge and were already integral workboats at this time for regional trades such as eel fishing, reed-cutting and fowling. Jack was quick to spot the opportunity and began to build this type of boat in his Boatyard, calling on the knowledge gained during his apprenticeship.
Jack's pioneering introduction of pleasure punts on the College Backs and upper river was incredibly successful, embraced by the locals and University students so whole-heartedly, that by the early 1920s punting had overtaken every other boating activity in Cambridge. Indeed, Jack's punts were so well crafted that they were in demand across the country within just a few years.
Fast-forward to today, and punting is still number one when it comes to having fun on the river. Scudamore's Punting Company owns the world's largest fleet of punts, with around 150 boats available for hire along the two traditional routes.
If you are looking for more about Jack Scudamore and the history of Cambridge punting there are some fantastic sources within the Cambridgeshire Collection. Better yet, come punting with the oldest punting company in England and experience pleasure punting as it should be!
Obituary: Maurice
Courtesy of the Cambridgeshire Collection, a cutting from the Independent Press and Chronicle: Friday, September 9, 1938.
Read More
Tour and Lesson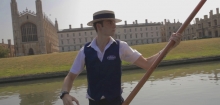 Combine your punt tour with a punting lesson for some adventure and enjoy mastering a new skill!
Read more