Season Tickets 2020
We've suspended annual punting tickets due to technical difficulties.
---
Punting Season Tickets
Fair weather punters, this ticket is for you! If you're planning on hiring a boat on 2 or more days during the summer then this is the cheapest way to do it. These much sought-after tickets provide daily access to our selection of hire boats on the Cam and along the River Granta towards Grantchester.
The Season Tickets are valid fom 01st March until the 30th September, ensuring lots of time to take your friends punting on any day you choose. If you're looking to change from punting, your ticket ensures you can also enjoy our kayaks and Canadian canoes.
We've suspended annual punting tickets due to technical difficulties.
Season Ticket Terms
Tickets are subject to our Season Ticket Terms.
Read terms
Additional Information
Season Ticket holders are entitled to one free self-hire punt, seven days a week, along the upper river towards Grantchester. Each session can last as long as all day. Boats must be returned before 21:00 or the closing time listed on station (whichever is earliest) on the day of the hire.

Tickets can be used to take out one of our traditional 6-person punts for adventures out towards the idyllic Grantchester Meadows from our Boatyard punt station.

Tickets are valid for use until the 31th October and are non-transferable. Users must take their Season Ticket away with them on return of the hire boat.
Dog Days Out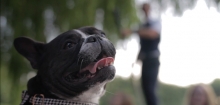 Punting with your dogs - enjoy some free time together on the river!
Read More