Cocktail Punting
Cocktail punting is currently available to book through Revolution Cambridge - website - 01223 364895
Revolutionary Punting Cocktails
We have teamed up with Revolution, Cambridge's premier party venue, to bring you a choice of three prestigious punting cocktail parties. Together we offer the opportunity to create a unique experience for your friends and to host your own revolutionary party!
The foundations of your unique punting party start with your chauffeur to punt you through the stunning College Backs. You'll be accompanied by your own on-the-punt mixologist whose job is to prepare your choice of freshly-mixed cocktails.
Punt and Cocktails - The Queens' package
Choose this option for a private punt tour with two on-board drinks per person, choose two cocktails as a group to enjoy aboard the punt from the linked menu. After your tour there's queue jump at Revolution with free entry and a reserved table (before 21:00) and a Prosecco reception for your party on arrival at Revolutions.
Cocktail List
Punt, Cocktails and Food - The Trinity package
Following on from the thrills of the Punt and Cocktails, this option adds a delicious two-course meal (booked before 20:00). Choose your two courses from the linked menu, selecting as a group between 'starters and mains' or 'mains and desserts'.
View Menu
Punt and Party - The St John's package
Our ultimate cocktail punting experience follows on from the punt tour with an additional 1.5 hours in your own cocktail-making class at Revolutions (booked before 18:00). Create tantalising cocktails and learn the tricks of the trade before heading into a reserved area for a Party Board Buffet.
Additional Information
Your Chauffeur and Mixologist will wear seasonal uniform. Our punts are equipped with cushions and blankets, with extra blankets and umbrellas on-hand in case the weather changes.

Punting cocktail parties leave from our Quayside Punting Station and can be booked at any time between 11:30 and 20:00. From The Quayside it is about a 10 minute walk to Revolution at 3-8 Downing Street, Cambridge CB2 3DB. These tours last for 45 minutes and must be pre-booked through our Bookings Team on 01223 359750.

Dress Code: We know that you're punting, but you'll need to consider attire for the evening too! Revolution love funky or smart-casual fashion. There will be no cocktail drinking in hats, hoods or sports trainers. Please wear a smile! Fancy dress is welcome. Please ensure that guests have suitable ID with them on the night. Accepted ID includes valid passports, driver's licenses or identification carrying the accredited PASS logo, but not student ID.
Tour and Lesson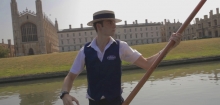 Combine your punt tour with a punting lesson for some adventure and enjoy mastering a new skill!
Read more
College Backs Map
Download our College Backs map before you go.
Read More