Punt Hire Adventure Checklist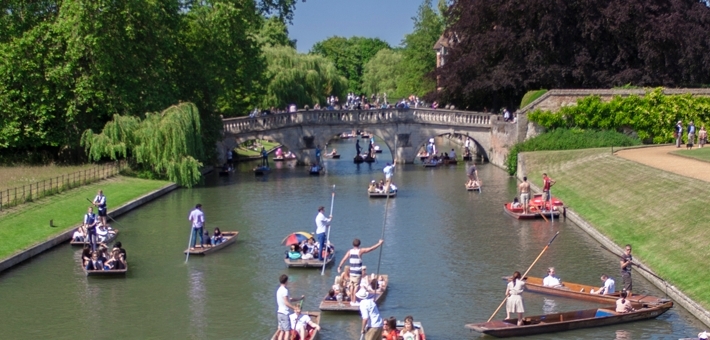 Punt Hire Adventure Checklist Tips
Now we're approaching summer, leaving the house wearing something other than thick trousers, boots and a waterproof jacket is a very real possibility. The clocks have come forward, the sun is starting to shine, and long lazy days on the river are now no longer a wintery daydream – punt hire adventures here you come!
Punting Attire – What to wear?
1. Shoe Love is True Love
First things first, you'd be wise to choose a pair of rubber soled shoes. Unless you don't mind the risk of slipping off the back of the punt and into the river, flip flops or ballet pumps simply won't cut it. Grab a pair of boating shoes, trainers or espadrilles for maximum grip and minimum embarrassment!
2. Style not Fashion
No matter how good you are at punting, you'll find that your clothing will get a little wet (soaked if you jump in)! I recommend avoiding clothes that are made of thin, flowing material as they have a habit of attaining degrees in transparency (Cambridge certified, of course)! A pair of summery trousers or shorts would be perfect.
Gents, or ladies with pockets (a rare breed), I recommend taking your phone and belongings out of your pocket before getting onto the punting platform. Ladies, I'd also highlight the possible need for avoidance of flippy skirts or dresses, unless teamed up with leggings. Everything to do with punting and getting in and out of boats has got knicker-flashing embarrassment written all over it!
3. Prepare for a Bright Future
We all know of the legendary English weather which seems to flit from sun to cloud to rain or hail and then back to sun with almost hourly changes. I advocate always bringing along a pair of good sunglasses and suntan cream. By 'good sunglasses' I mean a pair that will protect your eyes from harmful UVA and UVB rays. An advantage of being on the river when its sunny is you will get double the sunshine – sun from above as well as the reflected rays from the water! This additional tanning of course puts your skin and eyes at risk from sun damage. Take care to put on suntan cream as needed throughout the day.
Punting Essentials - What to bring?
1. Nibbles and Refreshments
Food! Punting definitely works up an appetite, and there are certain places on the river where you can duck out the way of the stream of tour boats and nibble with a view. Also bring some water as well as some tasty beverages to wash it all down; there are some beautiful beers wines and ciders available from both 'The Wine Merchants' and 'The Mill' just opposite our punt stations. It might also be worth bringing a few stale crumbs for the many ducks, geese and swans that roam the Cam. You will definitely make a few friends!
2. Capture that Moment
Don't forget your camera as there'll always be priceless photo opportunities on the river. Please feel free to Facebook or Instagram us your pictures; we love to see you having fun on the river! Remember, in the words of act Connie Stevens, 'Nothing you wear is more important than your smile'.
3. Emergency Kit
You may wish to consider bringing an umbrella for your boat in case you are caught short in that every surprising British rain. If the weather's nice and you think you'll fancy a dunk into the Cam then I recommend considering swim wear or a change of clothing and towel.
Have a wonderful time!
Date posted
May 29, 2014
Blog home