Festival of Ideas 2013
"Who really designs buildings: architects or engineers?"
The Cambridge University
Festival of Ideas
2013 has organised an array of events to celebrate the arts, humanities and social sciences. Events include a showcase of exciting talks, performances, films, exhibitions, creative displays and activities. As a part of this year's Festival of Ideas we will be hosting an inspirational debate on a punting tour along the College Backs.
The spirited debate will look at building aesthetics as designed by architects and the structural design by civil engineers in an attempt to answer 'Who really designs buildings?'. Presiding over the debate will be leading researchers Ranald Lawrence and Aaron Gillich. Whilst punting side by side along the Cam in separate punts they will explore the concepts and attempt to resolve the dilemma.
This is a limited places event with just 22 tickets available to be allocated on a first come, first served basis. The Festival of Ideas punt debate will run for an hour, leaving from our
Mill Lane Punting Station
at 12pm on Wednesday 30th October 2013. There will be blankets and umbrellas on hand just in case the weather takes a turn for the worse.
Tickets go on sale 10am on 23rd September 2013 - Set a reminder so you don't miss out!
Cambridge Tours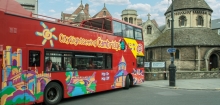 See the city from both the river and road by combining our punting tour with the famous Cambridge bus tour.
Read more