Conference Punting
Cambridge Conference Treats
Cambridge is the ideal place for a conference, with its history of innovation and fame as a hotbed for debate and thought leadership. Your conference, equally, wouldn't be complete without experiencing the many charms of our beautiful city.
We're proud to offer varied break-out activities on the river, aiming to showcase the very best of Cambridge and tailored to suit your conference attendees. Our punting events include relaxing Champagne Punt Tours, luxurious Afternoon Tea Punt Tours and challenging treasure hunts which allow the adventurous a chance to have a go at mastering the art of punting themselves! Contact our Bookings Team on 01223 359750 to discuss your requirements.
Private Punt Tour
Book your conference guests a uniquely Cambridge break-out activity on our award-winning private punting tour through the College Backs.
Read More
Champagne Punt Tour
Add a touch of luxury with our extended private tour along the beautiful College Backs, complimented by chilled champagne.
Read More
Afternoon Tea and Punting
Treat your conference attendees with our entertaining punting tour followed by an luxurious afternoon tea on the lawns at the Doubletree by Hilton.
Read More
Wine Experience on a Punt
The wine master Lavinia will lead you through 3 red and 3 white wines as well as how to taste and experience wine in a different way all the while enjoying the beautiful College Backs.
Read More
Bat Safari Punt Tours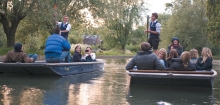 Treat yourself this summer to a unique Bat Safari Punt Tour hosted by experts from the Wildlife Trust.
Book here